A smart home's heart and soul are its smart home hubs. These little devices, which can be installed in your house or hooked up to an internet connection, allow you to control every aspect of your home from one central location. Not only does this make things convenient for you, but it also makes it easy for guests to access what they need during their visit. The key to a successful smart home is picking the right hub for your needs and purposes. And that's where we come in.
Smart home hubs are the control centers of your tech-savvy home. What started as a simple way to manage your digital devices has evolved into more of a do-it-all solution. The first smart hub was launched by Wink back in 2012, and since then, we've seen the introduction of products from Amazon, Google, Samsung, and many others. During this time, there's been plenty of innovation within the smart hub market – something we'll be exploring in detail below.
The concept of home automation has evolved from the old wired X10 protocol to present speaker-based smart home hubs. The urge to control devices and live comfortably has led to this powerful concept.
If you are new to the concept of a smart hub, then this post will help you understand what it is. In this post, you will learn about the types of hubs and their use cases. You will also see the best smart home hubs currently available in India.
1. What is a Smart Home Hub?
A smart home hub is central control and automation point for a smart home. It can be used to manage an entire smart home or just a few key devices. A typical smart home hub connects all the smart accessories and smart gadgets in one place, making it easier to control and automate the functions of the smart home. It also makes it possible to integrate different devices from different manufacturers, which is not always easy.
2. Why do I need a Smart Home Hub?
We are living in an age of smart homes. In recent years, we've seen a host of new smart devices enter the market and consumer interest in them has increased. According to a recent report from Accenture, one in three consumers plans to buy smart products for their homes.
Despite this growth, many consumers are still unaware of the benefits that smart home devices can offer. A recent survey from Accenture showed that 47% of current non-smart homeowners believe that smart technology is too expensive, and 43% don't understand what it can do for them.
3. What are the different types of Smart Home Hubs?
The smart home hub is a central device that connects all the other devices in your smart home. It allows you to access and control everything from your smartphone. You can think of it as the brain of your smart home. There are many different types of smart home hubs available today with different features, capabilities, and prices.
The most important thing to consider when choosing which one to purchase is compatibility with the devices you're planning to use in your smart home. You should also consider the convenience and simplicity of using a particular hub over another.
4. Choosing your Smart Home Hub
The Smart Home revolution is upon us. Much like when we went from desktop computers to laptops, and then smartphones, the home is going through a similar transition.
The best home automation system hub is the central point of your smart home system, and it comes with a few unique challenges when choosing it. You need to consider the needs of your family while getting a hub that will work with your home.
As it stands now, there are a lot of smart home devices on the market that work together based on their standards. Each company uses its apps and interfaces to operate its devices.
For instance, a hub that supports Zigbee might not be as great for someone who already has Wi-Fi installed. On the other hand, a hub that only uses Bluetooth could have limited functionality in older homes.
The most important thing to know is that smart home hubs are often changeable – you don't have to commit to one right away
In this section, we will cover what a smart hub is and how it works. We'll also look at a few different options for home
5. How to setup your new hub? or How to set up a Smart Home?
Many different products work as smart home hubs and your hub may have an if so function that enables you to automatically turn on lights when a camera detects motion or turn off the thermostat when the outside temperature falls below freezing. So if you are a gadget freak, then the hub is certainly your device of choice. The good news is that there are now many options to choose from!
When looking to buy new smart home devices be sure that they work with an already existing system and not just work with their hub or app. Many different systems are out on the market making it harder for consumers like yourself who want to use multiple apps or tools but also have at least one home hub option.
In this case, the console is built by a more powerful user so many of its features are outdated or not compatible with modern devices for example, like popular manufacturers that have taken over some of these major label companies such as products from Nest and Ring currently do not support any other smart home system besides their inbuilt app or cloud feature. So it should be avoided to use your new technology without an adapter.
6. App compatibility and what you can use it for?
The Hub is compatible with nearly all major smart home devices, so it doesn't have any notable compatibility issues. In short, it can be used for controlling electronics in the home. Of course, other manufacturers' apps that control specific products and services can be used. An example of such an app is a security camera from the Peek-a-Pix brand for visual monitoring ability within your house – we call these surveillance tools home hubs because they work just like one does in business centers where all many different scenarios need their way to spot something through images or videos carried about by top-notch cameras against intruders and stolen items.
7. Your smart home hub is just getting started
As the smart home industry begins to evolve, it is exciting to explore what lies ahead. More and more consumers are making their homes smarter with a variety of connected technologies such as smart TVs, wireless door locks, smart lighting systems, security cameras, and real-time sensors for temperature and humidity. While these smart gadgets are great for getting control over your automated home or personal tech ecosystem, hubs intended to provide users with collaboration tools like messaging and notifications can also be used for other purposes.
In the smart home industry trust is everything: to get it, you must earn it! It starts with choosing your smart hub wisely during purchase and use of your products through user feedback (iFTY) process; followed by product-specific training about proper setup design implementation; thirdly maintaining a top security level across all connections as well as potential Internet vulnerabilities that could impact you even after a device is purchased.
8. What are the most common connected devices, smart home gadgets, and applications that you use or would like to use?
The most common connected devices that I use or would like to use in my Smart Home Hub are:
Amazon Alexa speaker built into a smart speaker; and
Apple HomeKit-compatible air conditioning unit;
I use my Amazon Alexa speaker, which is built into an Amazon Echo Dot holder in my living room, to listen to favorite music playlists at home and to answer questions on my smart home system via Cortana or Google Assistant (requiring setup). I also use it to control the thermostats, set a reminder and get news headlines.
When I am away from home, another Alexa-enabled device called Ring Doorbell is used throughout our house that uses Google Assistant voice command for video calls to us when there are visitors at our door before we open the door themselves. Hence this innovative solution allows me to remotely monitor my home and family anytime, anywhere.
My Apple HomeKit-compatible air conditioning unit that is built into the wall in our living room houses a Philips Hue White A19 LED light bulb (18W) with a female smart socket outlet; it allows me to use Siri voice control from ANY Bluetooth speaker anywhere at any time for temperature adjustment as well as tapping on its interface to ask certain questions about connected devices like AC/heating; I can do this from either Google Assistant or Alexa and even via my mobile phone.
How does a Smart Home Hub work?
First, you need to connect all the smart home devices to the hub. This can be done using the app, voice command, or pairing over Wifi or Bluetooth.
The central hub will then be accessible via remote control. You will be able to control the devices individually via the hub.
For example, you can connect your smart light bulbs, your front door lock, a smart AC, or a security camera for a security system to the hub. When you instruct the hub to switch on lights, the hub will communicate with the smart light to switch it on.
Thus you interact with the hub rather than managing each device separately.
Types and Varieties of Smart Home Hub Available in India
Globally, there are many different types of smart home hubs with no standard categorization However, for simplicity, the three types are – hardware hubs, software hubs, and smart speaker hubs.
But in India, you will only get smart speaker hubs.
1. Hardware Hubs
Hardware hubs are plugging devices to connect with all of your smart devices. They have their interface and protocols. So no two hubs or devices are compatible. You need addons or utilize built-in radios to interface with other protocols. Examples of hardware smart hubs are Wink and Vera.
2. Software Hubs
Software hubs are like apps that can be installed on the PC and smartphones. You will need extra hardware so that the software smart hub interfaces with Zigbee and Z-wave. Smart things, Eve, Stringify, and Yonomi are examples of software hubs.
3. Speaker Hubs
Smart speaker hubs are the latest disruption in the home automation segment. They are compatible with tons of devices like home security cameras, routers, thermostats smart locks, lights, and smart geysers. Examples of speaker hubs are Amazon Echo dot, Echo Plus, Echo Show and Google Home, Google Nest hub.
Which Type of Hub is Best for Which Consumer?
1. Hardware Hubs
Hardware hubs can be set up by plugging in and connecting the smart devices. Thus the hubs are best for consumers who are looking for traditional smart home automation options. Now even hardware hubs offer expansion add-ons for additional device support. Thus you can integrate hardware hub with devices using the latest Zigbee or Z-wave protocols.
2. Software Hubs
Consumers who are mobile and want to have the best home automation system on their smartphones can pick software hubs. The software hubs can be installed by interented them. Android app version and iOS app versions are available for internet. Post them it, simply lets the app discover and connect with the smart devices around.
For example, software hub Yonomi is compatible with brands like Alexa, Google Assistant, Philips Hue, GE, Honeywell, Logitech, and TP-Link.
3. Speaker Hubs
Speaker hubs are best for people who like to voice control their devices with a voice assistant. That saves you from the hassles of using the app every time. Example: Amazon Echo smart home hub.
Presently, the smart speaker hubs have intelligent Alexa or Google Assistant. Make sure that all your smart devices are compatible with either of them.
Amazon Echo Plus has an additional Zigbee hub, to help consumers use the latest Zigbee protocol-based smart devices.
Best Smart Home Hub in India:
1. Smart Home Hub Alexa
A) Echo Show – Premium Sound and a Vibrant 10.1″ HD Screen
You can control hundreds of smart home devices like lights, plugs, security cameras, A/Cs, and TVs on an interactive 10.1'' HD touch screen dashboard. Which is amazing.
The fabric designed, Echo Show has a combination of Alexa + Speakers + Large Display + Smart Home controls.
The wifi-based smart home hub in the Echo show can light Philips Hue smart light bulbs and Anchor smart plugs. Plus you have on hand an Intel Atom x5 processor.
Apart from that, you can use Echo Show to
Watch TV shows
Listen to music
Read news bulletin, get cricket scores
Make hands-free calling
The 1765 g heavy, Echo Show can hear you even while music is playing. This is possible through the powerful eight microphones and far-field technology.
However, there are reviews of hanging software that may be due to software bugs. Echo Show lacks updated third-party Alexa functions. Plus reviews are indicating that you can not use it for streaming Netflix.
PROS
Vibrant 10.1" HD screen
Interactive dashboard
Powerful eight microphones
Wifi based smart home hub
Intel Atom x5 processor.
CONS
Heavy 1.765 kg
Hanging software
Restricted Alexa functions
B) All-new Echo Plus (2nd gen) – Premium sound with a built-in Smart Home Hub
The 780g, wifi-based, Amazon Echo Plus (2nd Gen) is the only speaker-based smart home hub that has ZigBee protocol.
Thus you can plug in compatible Zigbee smart home devices. In India, other compatible smart lights, plugs, and devices are from Oakter, Syska, and TP-Link.
You can set "routines" to control multiple devices at scheduled times with a single voice command.
The Echo Plus can listen to you even when music is playing. It is equipped with seven microphones that use beam-forming technology and noise cancellation.
However, there are reviews of Echo Plus requiring high-speed data networks. Occasionally, Alexa confuses with remixes and original and does not support much of regional languages.
PROS
Lightweight at 780 g
Built-in ZigBee smart home hub
Seven microphones with beam-forming technology
CONS
No display
Requires high-speed data network
Low regional language support
C) Echo Show 5 – Smart display with Alexa – 5.5″ screen & crisp sound
The lightweight 410g, Echo Show 5 has an eye-catching 5.5" bright display. That you can use in addition to voice control compatible smart devices.
Where you can command Alexa to switch on the AC, show the kid's room or dim the bedroom lights. Echo Show has a MediaTek Processor and can be used to create routines. Like morning routine – with switching on lights/geyser, playing light music, and reading news headlines.
However, we were surprised to find reviews of the Echo Show 5 getting heated like TV screens. You may have to adjust the angle to get a good view of the child's room because of the display facing upwards.
Lastly, there are reviews of Amazon Echo Show 5 failing to pick up the wakeup words and the voice command & screen becoming unresponsive.
PROS
Smart 5.5" display
Lightweight at 410g
Smart Home Hub with Wifi & Bluetooth
MediaTek Processor
CONS
Device getting heated
Display facing upwards
At times becomes unresponsive
D) Echo Dot (3rd Gen) – New and improved Smart Speaker with Alexa
At 300g, the Echo dot can be carried and placed even in small places. Because of the compact, sleek, and fabric design. Wifi and Bluetooth connectivity options help you connect Echo Dot with hundreds of smart home devices from Philips, Wipro, Syska, and TP-Link.
You can also set a routine to dim the lights, put off the AC and switch on the geyser before getting out of bed.
But, we found reviews stating poor voice recognition which may be due to 4 far-field microphones as compared to 7-8 microphones in other Echo devices.
Alexa's native English accent is hard for kids in India to understand. Plus the customer support for Echo devices in India is poor.
PROS
Sleek & compact design
Lightweight at 300g
Smart home hub
Wifi and Bluetooth connectivity
CONS
Poor voice recognition
Western English accent
Poor customer support
E) Echo Dot (4th Gen, 2020 ) Alexa Smart Speaker
Echo dot is a wireless speaker that gives you clear, mid-quality sound. You can ask Alexa, a cloud-based voice control system supported Echo to play songs, answer questions, make calls, and more. This device is similar to the Apple Siri and Google Assistant.
When talking to Echo Dot (4th Gen) from any direction, Alexa's far-field technology instantly recognizes the wake word from your spoken request and performs the requested action.
Echo Dot is your hands-free Alexa. Just ask for weather updates, set an alarm, or even order a pizza; Echo Dot responds instantly with a customizable voice experience.
Use Alexa to connect services you already use like Prime Music Spotify, JioSaavn, Gaana, or Apple Music. A new way to play music.
Echo Dot (4th Gen, 2020 release) Alexa-enabled hands-free voice control with multi-room music allow and compatible with other Echo devices. Allows your voice to do the work and connect it with Bluetooth anywhere, even across rooms.
The host of smart features in the echo dot takes music, home automation, and other smart home categories to another level with Alexa. Echo Dot is a hands-free, voice-controlled device that uses Alexa to play music, control smart home devices like ACs, TVs, geysers using smart plugs (to be purchased separately), provide information, read the news, and more The built-in speaker enables it to work as a smart alarm clock and room speaker.
Ask Alexa to play music, hear the news, check the weather, nursery rhymes and stories, cricket scores, set alarms and timers, and pay your bills. Plus, control lights, locks, and thermostats with compatible connected devices from WeMo, Philips Hue, Sony, and others
Alexa's brain is in the cloud, just ask, Alexa weather, news, and more — instantly
PROS
The futuristic design is appealing
Excellent microphone performance
Line-out port ( 3.5 mm )
Excellent connectivity and response
Affordable
Appealing design
CONS
The only difference between this model and the previous one is its appearance
Bass is lacking
There is no 3.5mm jack support for line-in
2. Google Smart Home Hub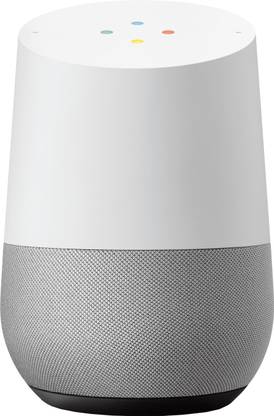 A) Google Home
The 477g, Google Home is a powerful personal assistant.
You can voice control other smart devices from brands Philips, Anchor by Panasonic, Syska, Orvibo, D-Link, Wipro, TP-Link, and Oakter, Wipro.
Google Home is compatible with Smart TVs that have built-in Chromecast. For example, you can configure Google Home to connect your Samsung smart TV with having Airtel Internet TV connection.
You can also set routines like 'Time to go home. That will broadcast the message to all Google Home speakers. Plus if you have added smart lights or smart AC then the device will get activated.
With the power of Google Search and Maps, Google Home is always ready for questions. The best part is that Google home is ready for the follow-up question with additional details.
However, you can not book Uber, Ola or order food through Zomato or Swiggy. In India, Google Home does not support hands-free calling and messaging
There are reviews that Google Assistant misses voice commands in a loud sound. Worst it fails to recognize wake-up words from children.
PROS
Lightweight at 477g
Wifi connectivity
Smart Home Hub
CONS
No calling or messaging
Cannot book Uber, Ola Swiggy & Zomato
Misses wake up a word when the speaker is loud
B) Google Nest Hub
You can view and control compatible devices on Google Nest's 7" touch screen display facility. That can be done with the help of easy access icons on the dashboard.
Because of a display, you can operate by the touch of your hand. Which is handy in situations of loud volume environment. The audio-visual effect gives a higher level of experience. The lightweight 480g, Google Nest hub is compatible with smart home devices from brands like Philips, Orvibo, Anchor by Panasonic, Syska, T-Link, Oakter, and Wipro.
However, there are reviews of poor sound quality when compared to google home. Plus the microphone failed to pick up the command at a distance of 10 to 15 ft.
PROS
Lightweight at 480g
7" touch screen display
Smart home hub with wifi and Bluetooth
CONS
No HD screen
Misses wake up words when the speaker is loud
3. Lenovo Smart Display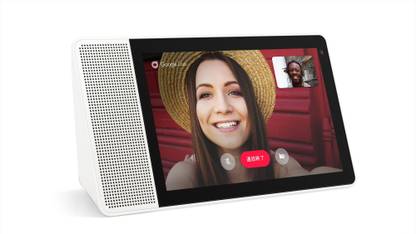 Lenovo Smart Display with Google Assistant
The 10" HD touchscreen Lenovo Smart Display allows you to control devices from brands like Philips, Orvibo, Anchor, Syska, T-Link, Oakter, and Wipro.
The 1.2Kg, heavy Lenovo smart display comes loaded with the Google Assistant. You can make a video call on Lenovo through Google Duo and a 5 MP Camera.
However, Lenovo Smart's sensitivity might vary depending on the volume of your command and the loud music in the room.
Also if you want to share the experience of music with your little ones so that they also get introduced to the wonderful world of tunes.
PROS
10" HD touch screen display
Smart Home hub with display
Wifi and Bluetooth connectivity
CONS
Heavy at 1.2kg
Can miss voice command at loud music
Future of Smart Home Hub
Amazon's Echo disrupted the whole digital economy including the smart home market.
The above graph from Statista shows smart home control and connectivity options. That clearly shows that the future is to be dominated by smart speakers & smart displays.
Read Also: Guide to Turn Your House Into a Smart Home
Frequently Asked Questions ( FAQs )
1. What is the purpose of a Smart Home Hub?
The purpose of a smart home hub is to connect and bridge all your devices into one network. Instead of connecting each one separately, you can start with a hub and have your devices connect themselves (through the different sensors/switches) for it to work reliably. A potential downside is that if you're going from an old-style router that has direct connectivity with each device, then you have to get a new router or switch that can connect it then.
2. What are the benefits of a Smart Home Hub?
A smart home hub is a device whose functionality allows for greater control of digital household devices and automation. There are several benefits to this, including remote controllability, increased sensor capabilities, cloud-based accessibility, and more streamlined communication with the rest of your home. These hubs use Wi-Fi or Bluetooth as their source of control and remote connectivity, and they also have integrated Ethernet connections so they can communicate faster than standard connected devices.
3. How does a Smart Speaker work?
Most smart speakers work using what's known as computer vision, which means that the device can process visual data. For example, in some cases, a speaker will be able to understand a gesture or facial expression, or even take precise measurements of the room and set the volume accordingly.
4. What are the Pros and Cons of having a Smart Home Hub?
Pros

The smart home hub can control specific devices such as lights, blinds, and thermostats. This has the potential to save users time and effort as they are not forced to operate these devices manually. Additionally, the smart home hub would be easier for developers because it differs in design and function compared to other smart home hubs on the market.

Cons

The first major con is the price. Smart home hubs are not typically cheap and can be costly.

Another major con for the smart hub is its minuscule usefulness considering the high cost. Having a functioning thermostat might do some good, but would you spend a lot on a device to be able to control it?

Lastly, most of these devices can start running up your electricity bill with constant use.
5. How can I choose a Smart Home Controller?
If you are interested in controlling all of the lights, locks, and thermostats in your home with a single app, it is important to choose a smart home controller because they can be programmed using an app. If you want lights that come on automatically when motion or temperature changes occur, a smart home controller will not be able to handle this routine activity.
6. What are SmartThings Hubs?
Many intelligent homes today use smart devices, but with so many of them, it can be difficult to manage. By creating a centralized hub for each type of device in the home, SmartThings makes organization and troubleshooting simple by allowing a single app to control all your smart devices.

SmartThings hub is an IoT device that provides automation services through plug-ins such as motion sensors, door locks, water detectors, temperature monitors, and more.
7. What are the Best SmartThings devices?
The best smart things devices are those that are reviewed as the most popular. A product's popularity is measured by its price-quality ratio, features, and the number of reviews. Few of the Best Smartthings devices: Nest Thermostat, SmartThings Hub, Philips Hue Tap.
8. How do I compare SmartThings to other products?
SmartThings works similarly to a security system, with motion and temperature detection from sensors and pre-programmed actions performed by thermostats and lights.

A brand of home security appliances is the Piper Circle System: it is a part alarm system, a part surveillance video camera meant for home use. Another product we could look at is the Canary: it has an app that lets you watch your home from your phone or computer.

Other comparable products include the Lovelace Lithium Smart Lock and Control Panel, WeMo devices that use a third-party app to operate them in place of ZigBee smart home technology, and Apple HomeKit devices designed by Apple Inc. The best so far was Piper Circle IP100 Mini Solar Wireless Alarm System with Video Sensor Door Bells (116 reviews)
Read Also: Best Smart Switches in India
Conclusion
A smart home hub is the central point of your smart home system. It can be a difficult decision to choose which one you want, but there are some things that you should consider when making this choice. You need to know what type of devices work with each hub and how they operate for it to be the best fit for your needs.
In India, smart speaker devices were launched in 2017. They do not have the full functionality and support as their present-day US counterparts. Most of the skills are getting improved and adapted to Indian conditions which will take time.
However, you can pick the Amazon Echo Show. Because apart from voice control Echo show has a 10.1" interactive dashboard to control smart devices. The speaker hub has eight powerful microphones and an Intel Atom x5 processor.
Smart home hubs are a great way to manage and control your smart home devices. They can help you to better integrate all the different technology in your home so that it works together seamlessly. For example, if you have a smart light bulb connected to your hub, you can use voice commands via Alexa or Google Assistant to turn on the lights with your phone.